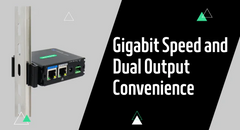 The LINOVISION Industrial Gigabit POE+ Splitter is a cutting-edge device designed to operate in the most demanding settings. Offering hot switchable DC12V or DC24V output, this splitter is not just powerful but versatile. Its unique ability to switch outputs caters to a range of non-POE devices, while an included POE 24V adapter extends its use to 24V POE devices like wireless AP/Bridges.
Gigabit Speed and Dual Output Convenience
Speed is a hallmark of this splitter, supporting transmission speeds of 10/100/1000Mbps up to 100 meters. This ensures rapid data transfer, essential in industrial applications. Additionally, it features two types of DC output ports – a DC connector and a Green terminal – enhancing its utility while maintaining a maximum power output of 25W.
Rugged Design for Extreme Conditions
Designed for harsh environments, the splitter is ideal for security cameras, wireless access points, intercoms, IoT devices, and other industrial equipment. Its robust industrial design includes a wide input voltage range (PoE 36V60V), extreme temperature resilience (-40°C75°C), and protection against lighting (6KV) and ESD (level 3). These features make it a reliable choice for challenging industrial settings.
Streamlined and Secure Installation
The compact and efficient design of the splitter allows for easy installation, compatible with both MIT rack and wall-mount setups. Moreover, it features double isolation to prevent signal interference and safeguard against equipment burnout, ensuring operational stability and safety.In conclusion, the LINOVISION Industrial Gigabit POE+ Splitter stands as a testament to innovative engineering, offering versatility, speed, and reliability for a variety of industrial applications. Its robust design, combined with high-speed connectivity and dual output options, make it an indispensable tool in any challenging environment.