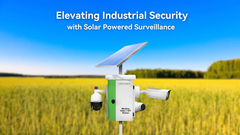 In today's rapidly evolving world, ensuring the safety and security of industrial settings has become more critical than ever. Traditional security camera systems often come with limitations such as dependency on grid power and wired internet connectivity. However, the advent of technology has brought about innovative solutions to overcome these challenges. One such breakthrough is the development of Commercial 4G LTE Solar Powered Security Camera Systems, which provide continuous remote monitoring for locations lacking access to grid power and wired internet. In this blog, we will delve into the advantages and applications of the LINOVISION 4G LTE Solar Powered Security Camera system.
The integration of solar power and 4G LTE technology is revolutionizing the security camera industry by addressing two major hurdles – power source dependency and connectivity. These advanced systems harness energy from the sun through solar panels, ensuring consistent power supply even in off-grid locations. This system taps into the virtually limitless power of the sun to ensure continuous operation. This self-sustaining energy source not only eliminates the need for grid power but also significantly reduces operational costs over time.
The 4G LTE connectivity, on the other hand, guarantees a stable and fast data connection, enabling real-time remote monitoring. This combination eliminates the need for cumbersome wiring and traditional power sources, making this system highly versatile and cost-effective.
Features and Benefits of LINOVISION's Solar Powered Camera System:
24/7 Remote Monitoring: The system empowers users with the ability to monitor their premises remotely around the clock, security concerns don't adhere to a schedule, and incidents can occur at any time. The system offers round-the-clock surveillance with its advanced night color view technology and AI Smart motion detection capabilities. This ensures that every corner of the monitored area is under constant watch, providing peace of mind for site owners and managers.
Flexibility and Easy Installation: The wireless nature of these systems simplifies the installation process. Without the need for extensive wiring and electrical work, users can set up cameras at strategic locations quickly.
Diverse Applications: These solar powered camera systems find applications in various settings such as construction sites, farms, ranch houses, barns, and warehouses, demonstrating their adaptability to different commercial environments. These industrial facilities are often situated in remote areas with limited access to power sources and communication networks. The LINOVISION 4G LTE Solar Powered Security Camera System is equipped with solar panels and 4G LTE connectivity, allowing it to operate autonomously in areas with minimal infrastructure. This ensures continuous monitoring of critical assets regardless of the location, enabling prompt response to potential security threats.
Customizability: One of the key features of this system is the ability to be equipped with the comprehensive range of funcations of LINOVISION's security cameras to suit different applications. This means that the system can be tailored to meet the specific requirements of different environments, such as farms, construction sites, or any other location that requires special monitoring.
Environmental Sustainability: The integration of solar power aligns with sustainability goals, reducing carbon footprint and promoting environmentally-friendly practices.
The marriage of solar power and 4G LTE technology has ushered in a new era of security camera systems. LINOVISION's Commercial 4G LTE Solar Powered Security Camera Systems offer an effective and efficient solution for locations lacking grid power and wired internet connectivity. With features such as remote monitoring, easy installation, and diverse applications, this system provides a comprehensive security solution for various commercial settings. By embracing this innovative technology, businesses can enhance their security protocols while contributing to environmental sustainability. As the world continues to progress, investing in cutting-edge security solutions like these is a step towards a safer and more connected future.